Programs

//

Hindu Funeral Service (South Australia)
Hindu Funeral Service (South Australia)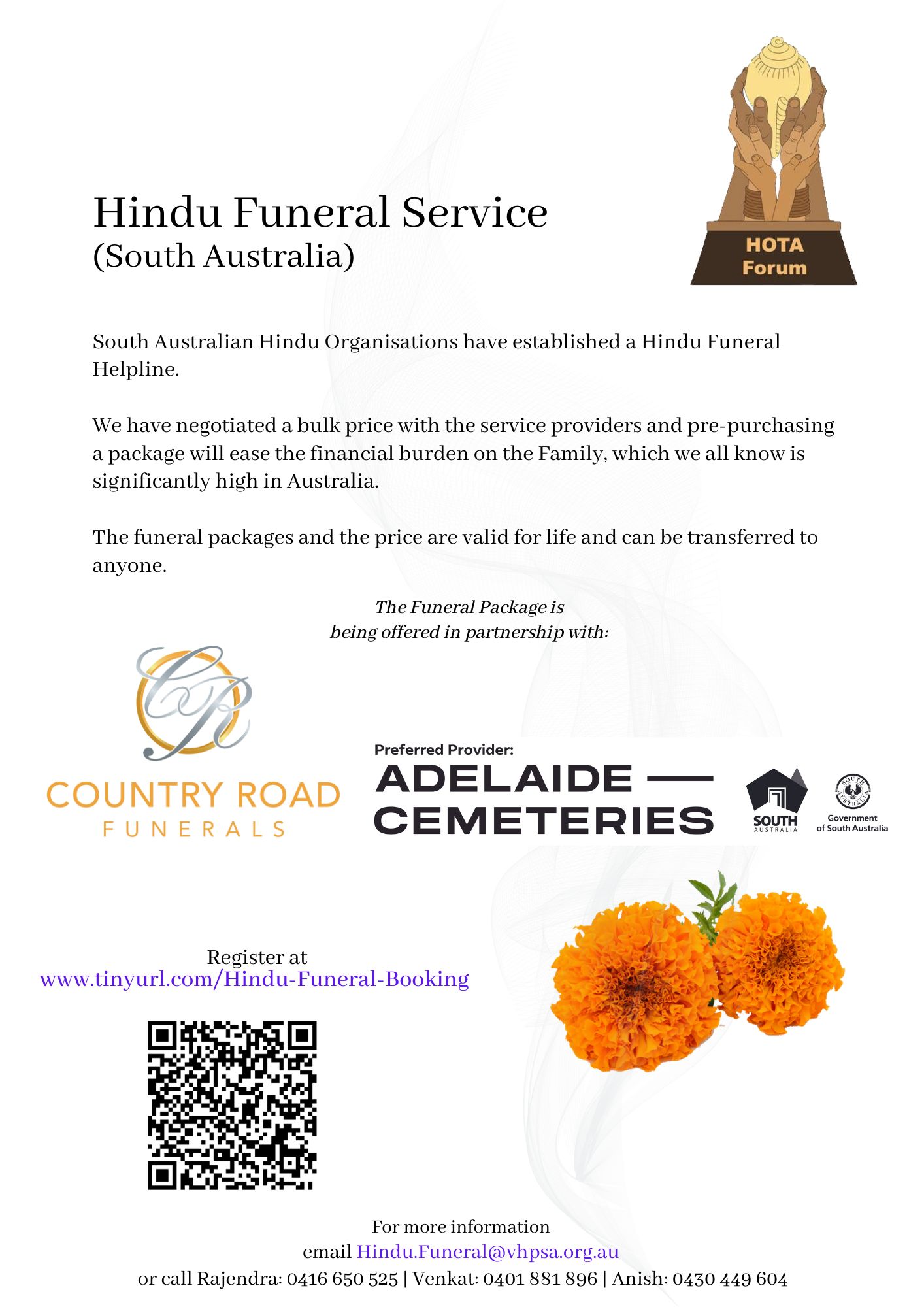 What is Hindu Funeral service
South Australian Hindu Organisations have established a Hindu Funeral Helpline.
We have negotiated a bulk price with the service providers and pre-purchasing a package will ease the financial burden on the family, which we all know is significantly high in Australia.
The funeral packages and the price are valid for life and also can be transferred to anone in need.
What am I buying?
Cost of the Funeral Package is $3,200* and it includes
Cremation
Witness of charge (pressing the button to cremate)
Funeral home services (Transporting and preparing the body for funeral)
45 minutes in funeral home to conduct religious rites
60 minutes reflection room at cremation centre before cremation for religious rites and farewell to the deceased
45 minutes access to a lounge in cremation centre after the cremation
Certificate of Cremation and Death certificate from the government
Payment
Cost of purchase one pre-paid funeral voucher is $3,200 if you pay outright
If you pay by instalments, to purchase one pre-paid funeral voucher, the initial deposit of $700 should be paid while booking
and must be followed by five equal instalments of $500 paid before 30 June 2023
*This price is only valid for funeral package purchased in 2022. Next year the prices will change
*The Cremation Centre will charge extra for Funerals conducted on weekends or public holidays
*Additional services such as beverages or flowers not included
Click the link below to register
Contact for more details
Rajendra : 0416 650 525
Venkat : 0401 881 896
Anish : 0430 449 604
Antyeshti Samskar in Australia