Saraswati Community School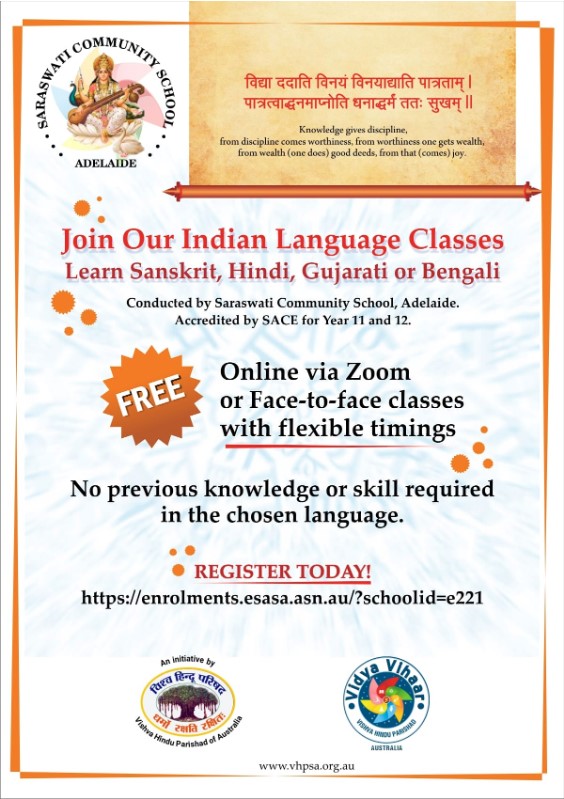 Background of the languages
Hindi is the name given to an Indo-Aryan language spoken in northern and central India. Native speakers of Hindi and other dialects of Hindi account for nearly 45% of Indians. Hindi is one of the two official languages of India's federal government and is also an official language of Fiji. Formal Standard Hindi draws much of its academic vocabulary from Sanskrit.
Sanskrit is the primary sacred language of Hindus, a philosophical language in Buddhism and Jainism, and a literary language that was in use as a lingua franca in Greater India. The language has by definition always been a 'sacred' and 'sophisticated language, used for religious and learned discourse in ancient India, in contrast to the language spoken by the people.
Hindi is one of the oldest languages in the world (descended directly from Sanskrit) and both languages are one of the easiest and most logical languages to read, write and pronounce. The grammar of Hindi is very easy and similar to English grammar. There are virtually no grammatical concepts in these languages that do not exist in English.
About the school
The Principal of the School is Ms Dayawati Pandey, who started her free language classes for young children in our community when she arrived in Australia in 2012.
In Goodwood Primary School, Hindi language classes are run for two hours, on Tuesday and Thursday 3:30 pm to 5:30 pm and Sanskrit language classes are held on Sunday 11 am to 1 pm. The classes continue during term breaks.
More details can be found in the flyer.
Learn about culture and heritage
The course focuses on developing communication skills in Hindi and Sanskrit (speaking, listening, reading and writing), developing understanding of the language as a structure and enhancing intercultural understanding. It is designed for students who need to develop or improve their language skills and encourage the enjoyment of language and culture.
We have children from diverse ethnic, cultural and religious backgrounds in our classes. Our students included those who had migrated recently from UK, China, South Korea and Bangladesh. Interestingly, some of our high performing students are the ones who are not from the Indian subcontinent.
We mix the language classes with a significant component of cultural and value education teaching children to respect teachers, parents, nature and all living beings. We start all our classes with prayers and have 30 minutes in Sanskrit class dedicated for improving fitness through Yoga and enhancing concentration through meditation.
All our classes incorporate music, art and craft, dance, plays and games in learning activities to provide a comprehensive understanding of the culture and history of India. The students regularly exhibit their learning in front of parent audience and also participate in interschool competitions or ethnic school celebrations.
Benefits
While the classes themselves allow students to connect with each other and share their understanding, the events they participate in helps the children and families to showcase their heritage and also connect with other ethnic groups in South Australia and learn about the rich cultural diversity we have here.
Keeping children connected with their culture and language will reinforce their sense of identity and will build their self-esteem. In our school, children are taught that we are all different and that differences must not only be accepted but also celebrated and that their culture and language is something they must take pride in.
We teach our children about different cultures and that all of them are different but equally important and valuable and this helps them appreciate diversity. Respecting others begins by respecting ourselves and our heritage.
Learning their mother language the children can communicate with their grandparents and their extended families who can only speak their home language and as a result family bonds are strengthened. Research has shown that the immigrants who maintain their cultural and linguistic connections with their country of origin from an early age learn to speak English better and adjust more easily to their new culture.
Co-curricular activities
In addition to language and culture, we have recently started offering specialised sporting activities as a part of our school and run a cricket clinic on Monday's and a soccer clinic on Sunday's to offer a well-rounded development opportunity to all our students.
All these services are offered free of cost and all learning materials, resources and stationary is provided by the school. The students can participate in sporting activities at a nominal charge of $2.
We are also planning to start English, Science and Mathematics classes for students in Goodwood and Unley to assist the students achieve more at school.
Registration
All our classes are open for all community members and parents/children can visit our class to see what we do and register.
Information related to the classes, their timings and location can be found in the flyer.
For those who need more information, they can call or text the Principal on 0469 570 186 or write to her at dayawati.pandey@vhp.org.au